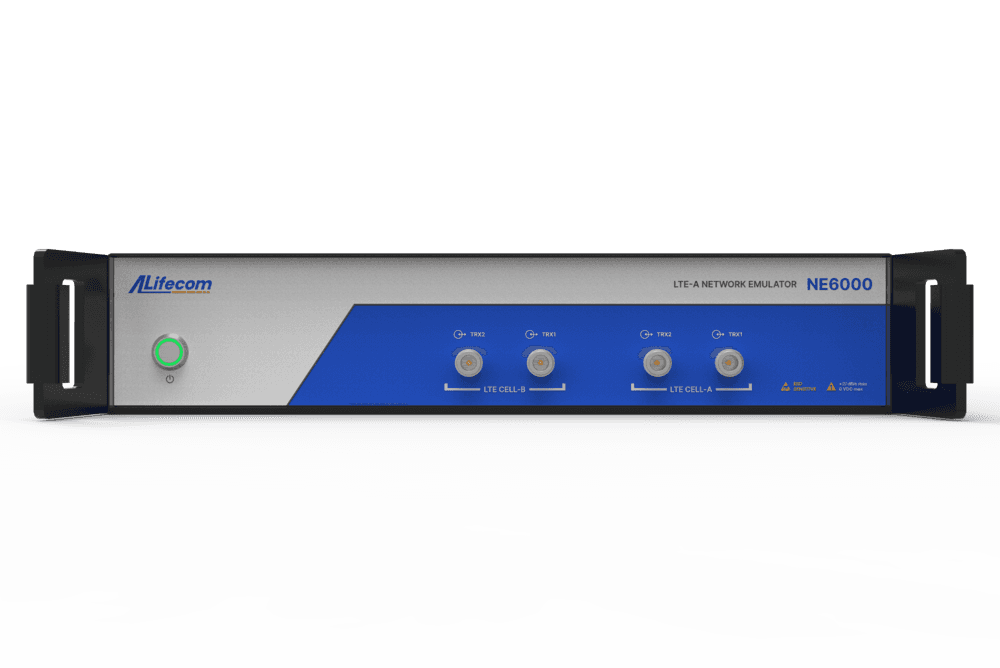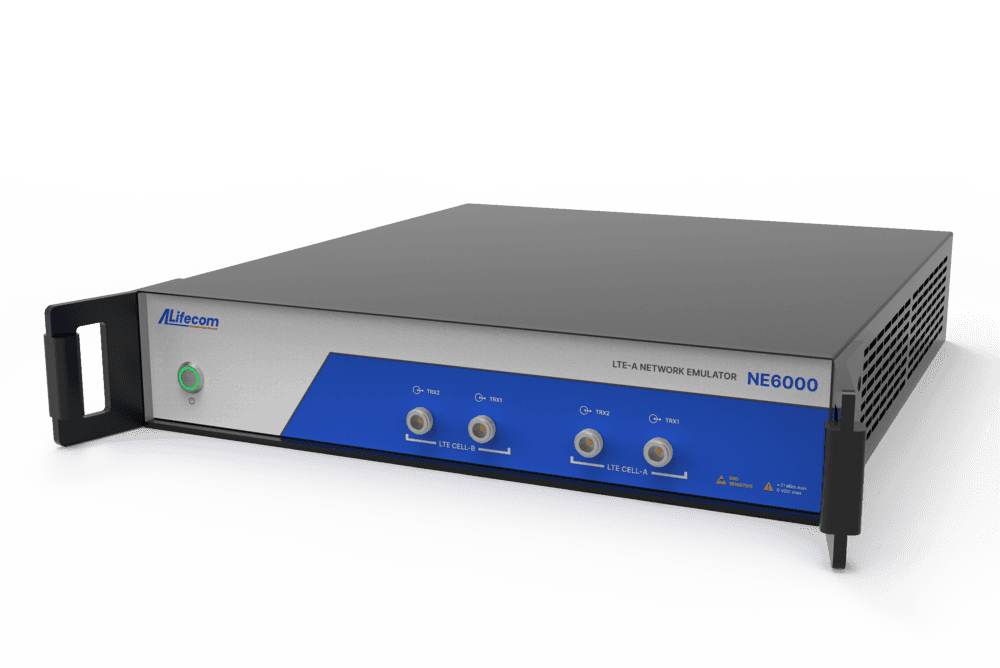 NE6000 LTE-A Network Emulator
Cat.6/NB-IOT/eMTC UE Signaling Test Solution
The ALifecom NE6000 is a test system used to test and diagnose issues in Long-Term Evolution ( LTE ) and LTE-Advanced ( LTE - A ) communication systems . It is designed to emulate a complete LTE-A network system , including an evolved Node B ( eNB ) and a true Evolved Packet Core ( EPC ).
The NE6000 can be used to perform various test items related to LTE and LTE-A signaling , and it provides a range of diagnostic and troubleshooting capabilities for the development and debugging of 4G User Equipment ( UE ) . The NE6000 also offers a compact option use in production lines and quality assurance / quality control ( QA / QC ) testing .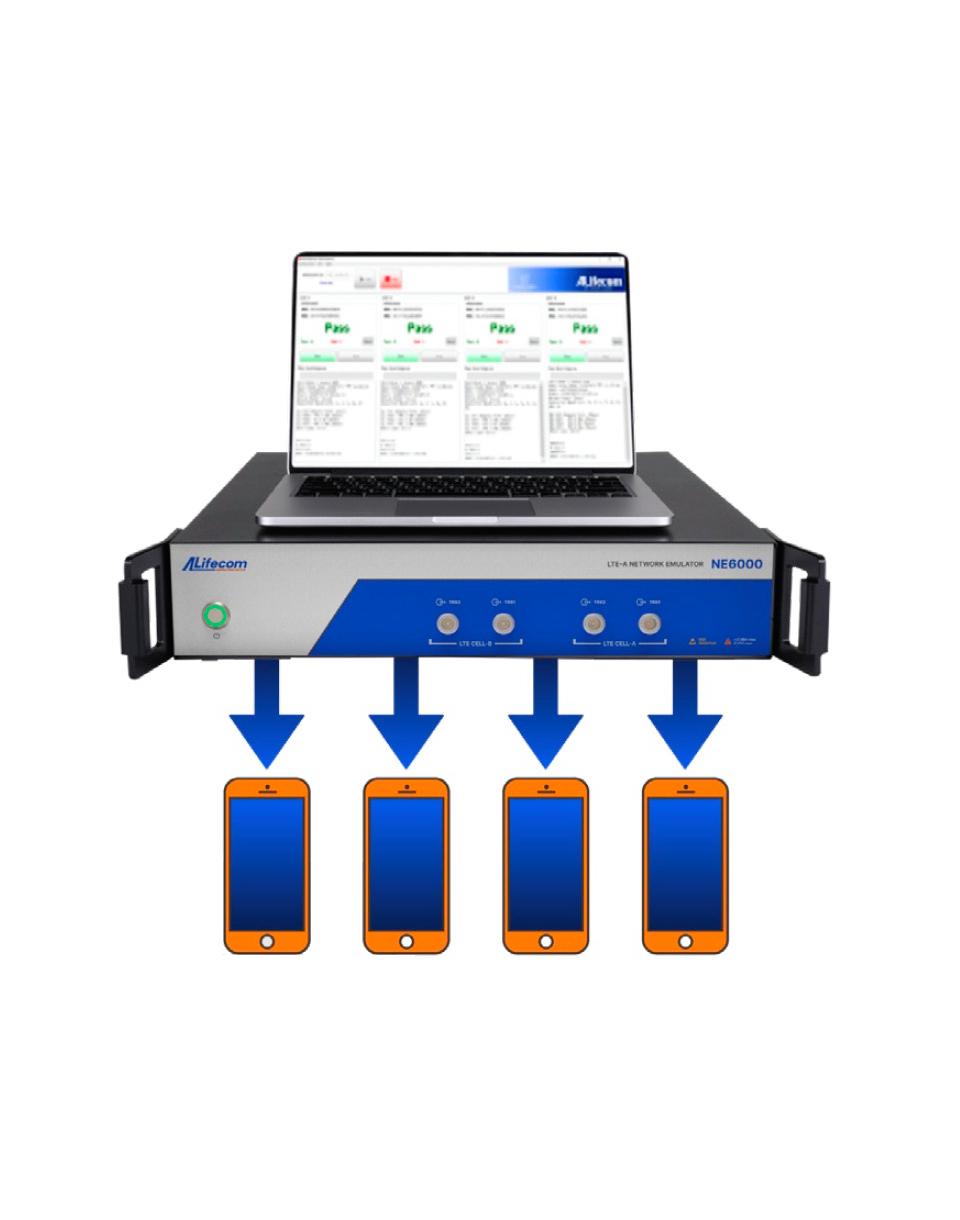 Most Affordable NSA/NA
Test Solution
The NE6000 is designed to test different aspects of signaling for LTE-A technology . It comes in a 2U-tall, rack mountable form factor , making it easy to integrate into standard equipment racks . The NE6000 can be used to communicate with DUTS ( devices under test ) through the LTE-Uu interface .
4G LTE-A Test Items
• Attach/Detach
RSSI
• IMEI
Handover (FDD/TDD)
• Band List
VoLTE/VoNR
• APN
Protocol Analyzer
• MAC Throughput
SMS Test
• IP Throughput
PWS
• TX Power
NB-IOT PSM/eDRX Test
• Sensitivity
eMTC PSM/eDRX Test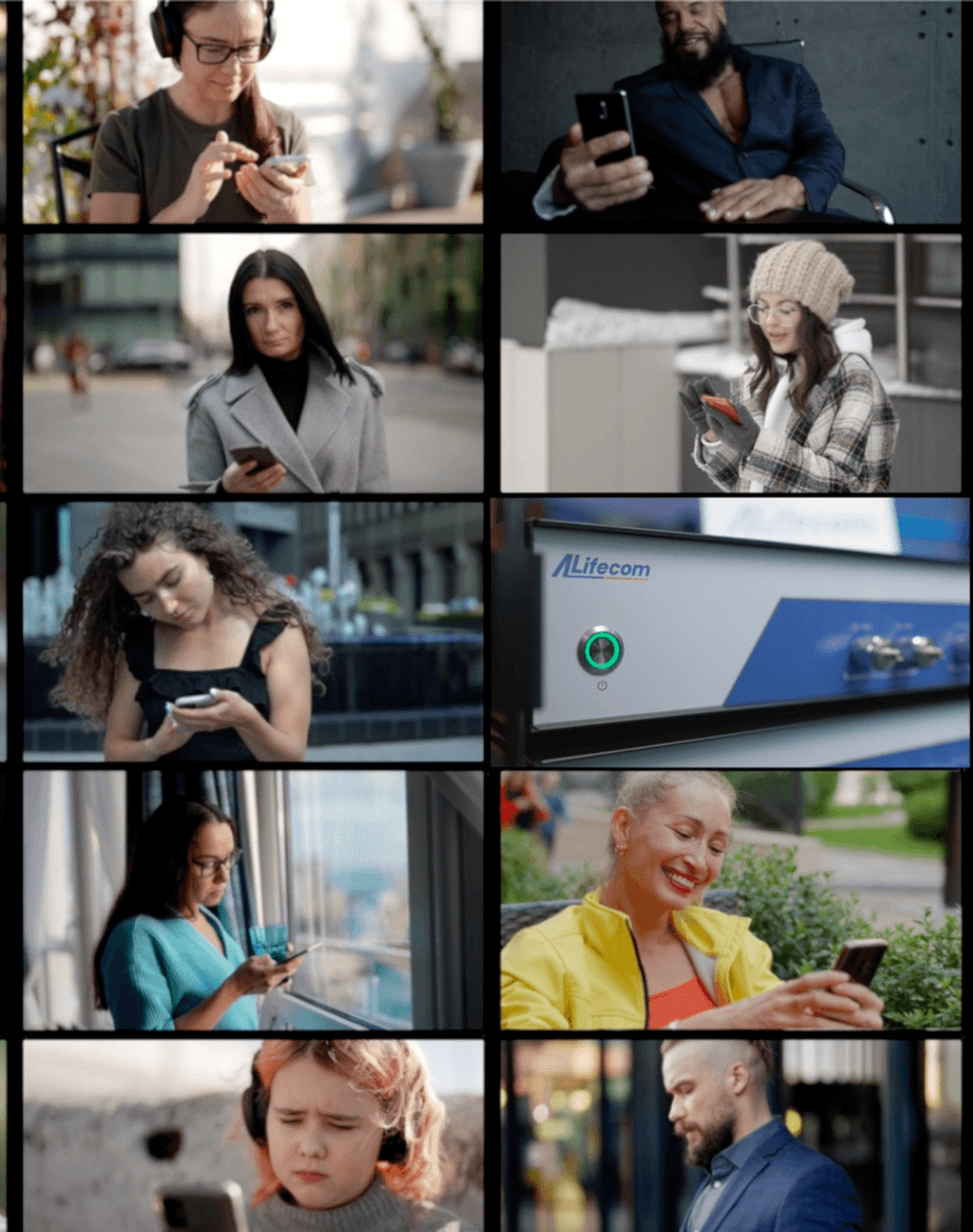 SMARTER EVERY STEP OF THE WAY
ALifecom is a leading provider of wireless communication signal testing solutions, specializing in network testing solutions for top industrial and consumer electronics manufacturers worldwide. With multiple core technology patents, we are committed to delivering industry-leading mobile network testing solutions for cell phones, designed to serve top industrial and consumer electronics manufacturers globally.
We have focused on researching and developing advanced wireless communication technology for many years. Our research and development team has accumulated extensive technical expertise in various wireless communication technologies, including 5G NTN, 5G, 4G LTE/LTE-A, WiFi, eMTC, NBIoT, small cell, and the latest 5G NR technology, focusing on wireless communication technology related to the terminal and base station (including base station and core network) of cellular mobile networks.
SIGNALING TEST SOLUTION
Feature
SIGNALING TEST SOLUTION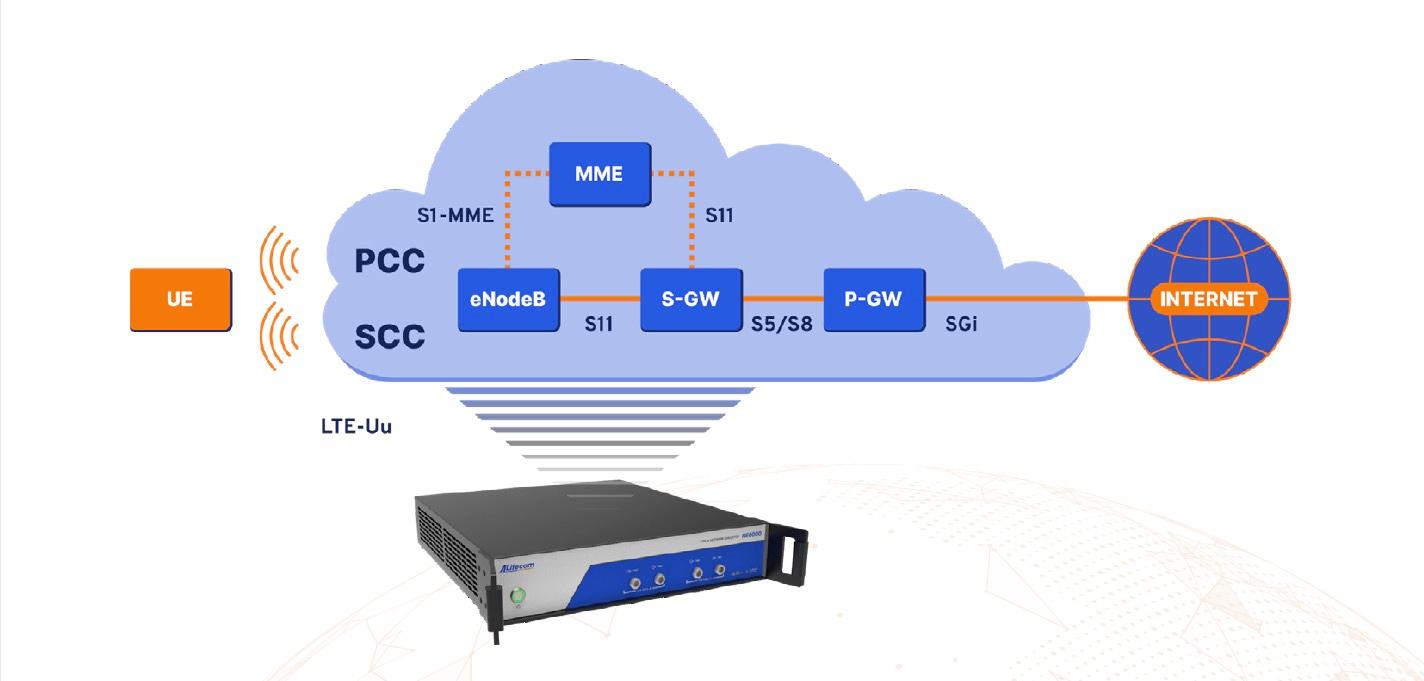 SCOPE OF TESTING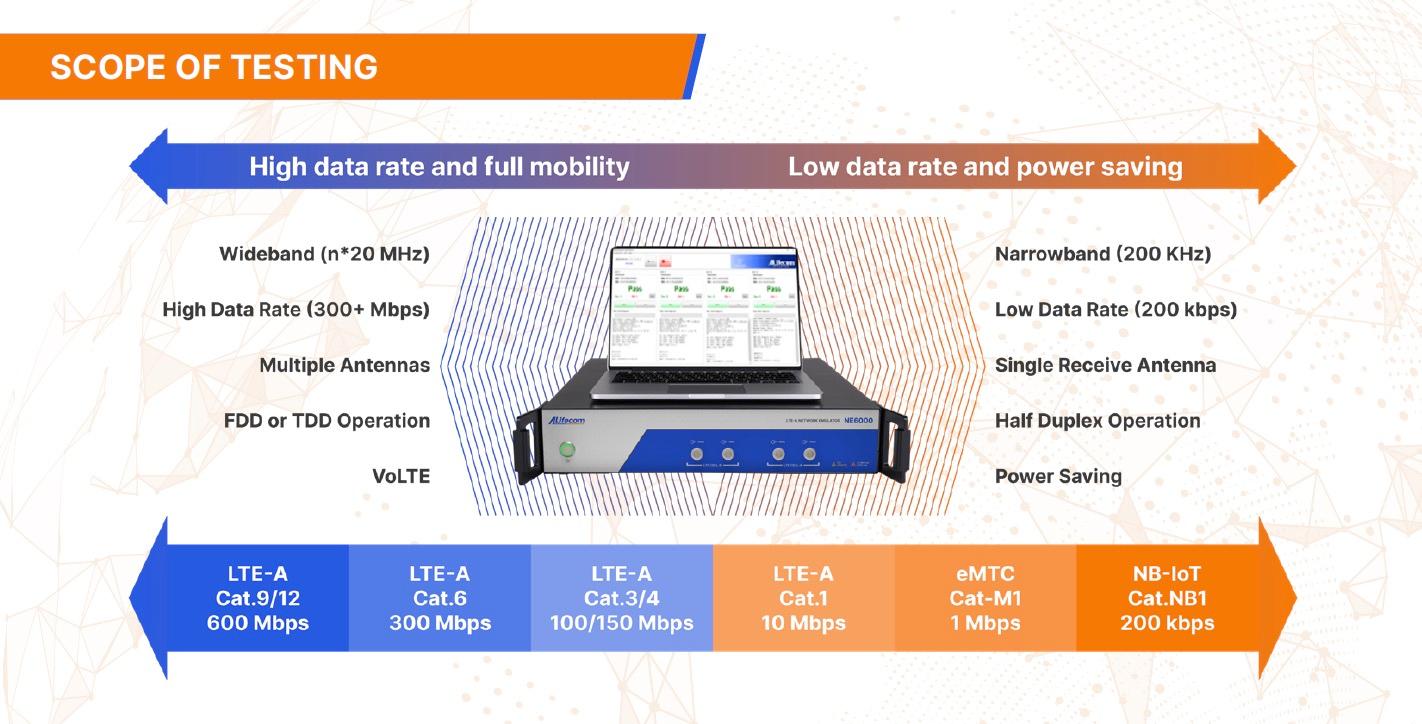 LTE-A FDD/ TDD Dual Mode

Dual 2x2 MIMO

2CC Carrier Aggregation (CA)

LTE-A Cat.1 ~ Cat.4 (upgradable to Cat.6/ 9/ 12)

NB-IOT/ eMTC

Frequency Range 400 MHz~ 3.8 GHz

1.4/ 3/ 5/ 10/ 20 MHz Frequency BW
IPv4/ IPv6 Functional Test

Multiple PDN (max. 8 PDN) Functional Test

QoS GBR/ non-GBR and Traffic Priority Functional Test

Integrated Protocol Analyzer

UL UE Target Power Setting (UE max. TX Power)

Multi-OUT Testing: max. 4 UE's
Friendly GUI and Useful Software Tools
1
Configuration

Test SIM
Cell Mode Select(LTE/NBIoT/CatM)
Carrier Aggregation
Band
FDD/TDD
Number of Antenna
APN Setting
2
NE6000 Info

Link Status
RF Config
Protocol Analyzer
3
UE Info

IMSI/IMEI
UE Capability
IP/MAC Throughput
TX PWR
RSSI
1Configuration
2NE6000 Info
3UE Info
4UE Link Status
5eNB Message Highlight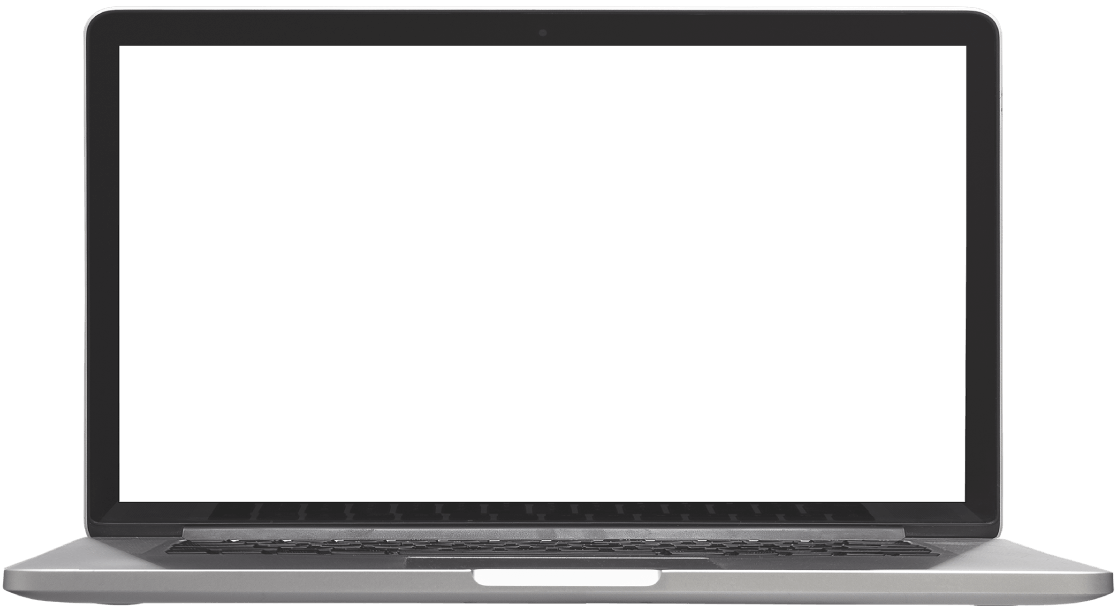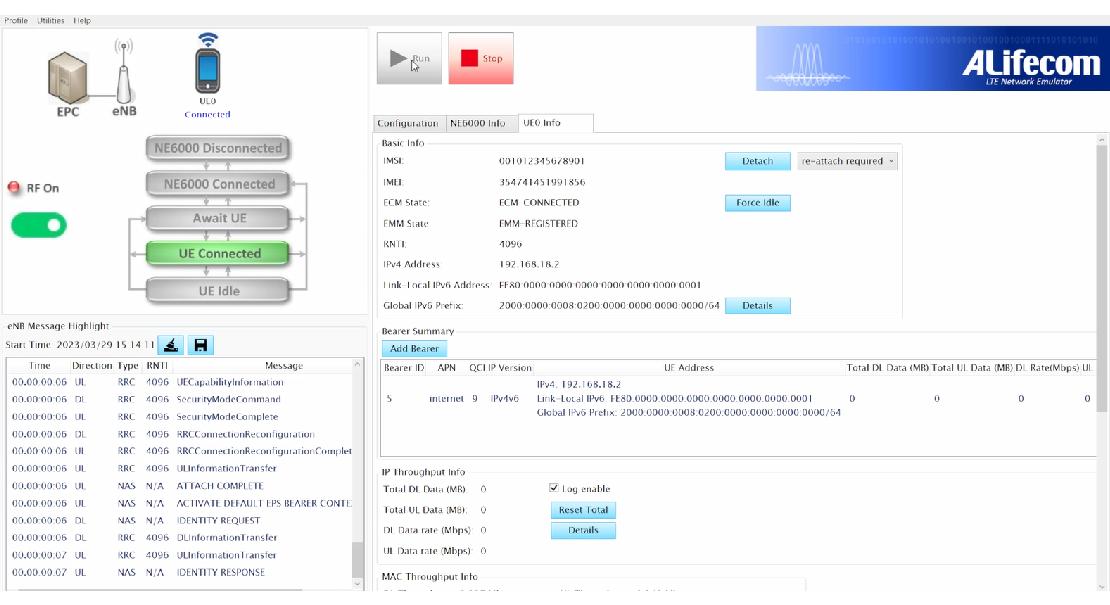 1
2
3
4
5
1Configuration
2NE6000 Info
3UE Info
4UE Link Status
5eNB Message Highlight
ALifecom provide a range of software tools ( CTS, MTS and ATS) that can be used to cover various testing scenarios and segments in the development and integration of 5G NR SA/NSA devices as well as LTE devices.

SW Tools
ATS = 1-DUT production test SW
iATS = multi-OUT (max. 4 UE's) for production test
MTS = Generic GUI for NE7500
CTS = Advanced GUI with applications test function and protocol analyzer for NE6000/NE7500
5G NR SA/NSA
V2X
5G NTN
Smart factory
Related products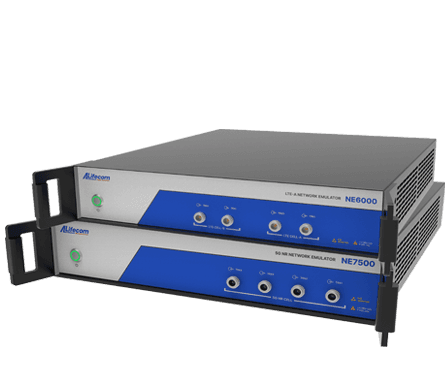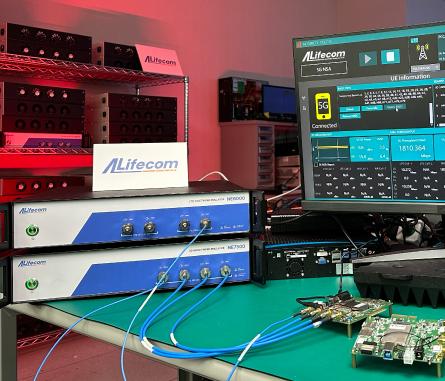 NE6000+NE7500 5G NSA Network Emulator
LTE/5G SIGNALING TEST SYSTEM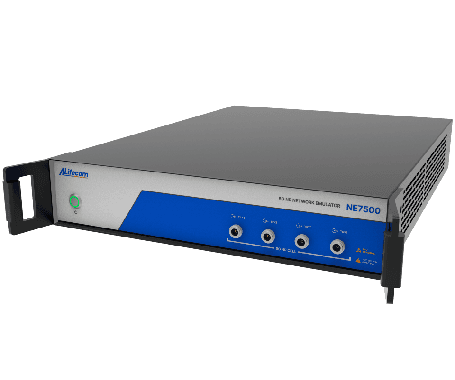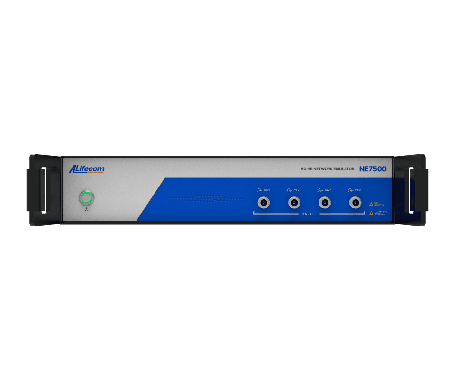 NE7500 5G SA Network Emulator
Most Affordable NSA/NA Test Solution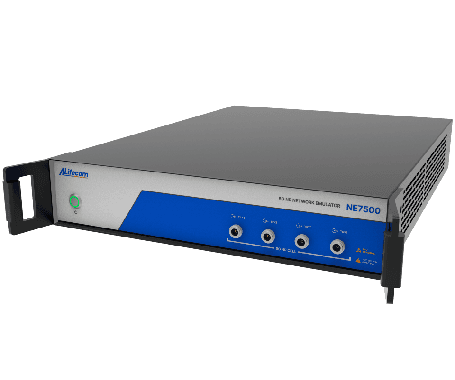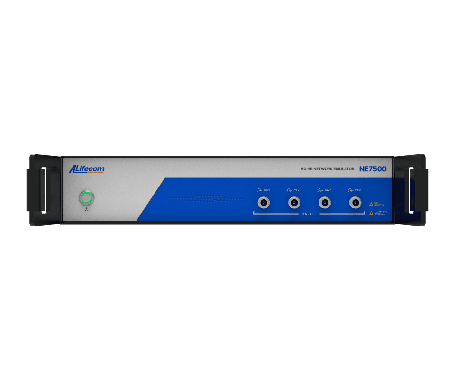 NE7500 5G SA Network Emulator
Most Affordable NSA/NA Test Solution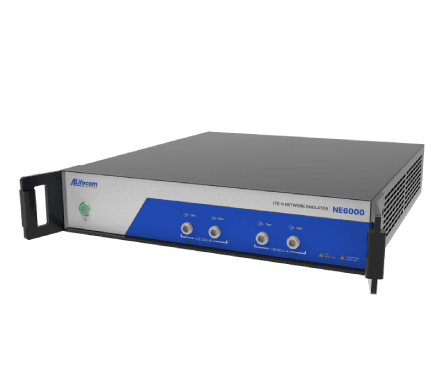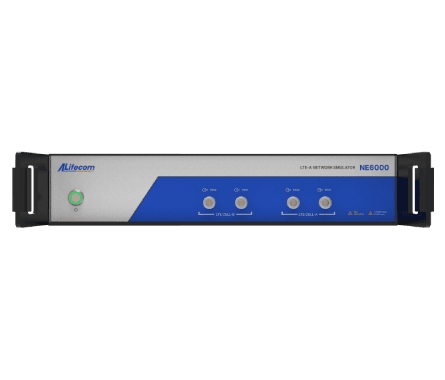 NE6000 LTE-A Network Emulator
Cat.6/NB-IOT/eMTC UE Signaling Test Solution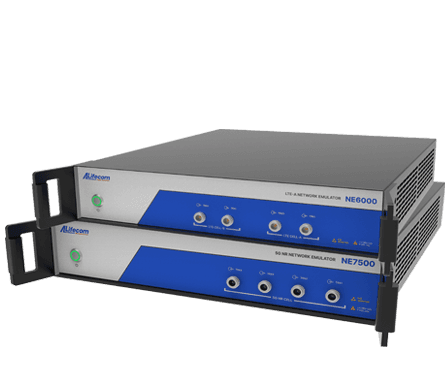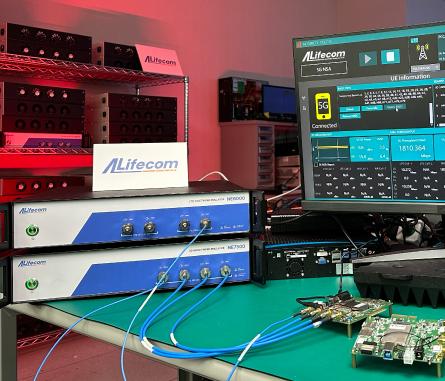 NE6000+NE7500 5G NSA Network Emulator
LTE/5G SIGNALING TEST SYSTEM